OKI-DICOM INNOVATION FOR MEDICAL IMAGERY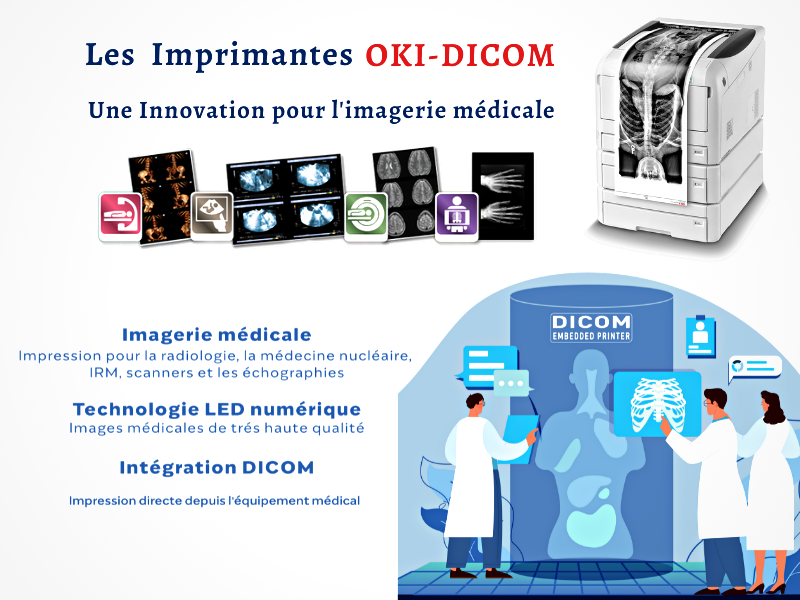 As the printing industry continues to evolve, OKI Group, a pioneer in innovative and renowned printing technologies, thanks to their innovative and customer-oriented commitment, is targeting healthcare professionals with the aim of relieving the pressure on healthcare staff by becoming aware of the delicate task they have to fulfil, namely the urgency of providing specialised and accurate care in the workplace. better conditions.
A strategic decision using high-definition LED printers with on-board DICOM quickly and efficiently accomplishes the tedious daily printing tasks using a modern printing infrastructure that streamlines processes and helps staff focus more on patients, which positively impacts their quality of monitoring and focus on specialist treatments with peace of mind.
How does the OKI challenge manifest itself?
Mr. Mustapha Hmayer the founder of TUNIGROS and the managing director of the company TUNIGROS replies:
"A radiologist must have an image of very high quality, until recently images are printed on silver films and this has several disadvantages:
The expensive cost
Impact on the environment
Random availability
Hence the challenge for OKI is to find relevant and reliable solutions that guarantee both:
High print quality
By reducing the cost
And by preserving the environment!
It is the only one of its kind, RAPID, RENTABLE, POLYVALENT, developed in partnership with leading suppliers of medical equipment, which guarantees their perfect compatibility. "
What are the advantages of OKI-DICOM printers?
The OKI-DICOM printer is a printer with digital LED technology, color and monochrome with DICOM embedded allows to print high quality medical images directly from medical equipment without having to use conversion software or external hardware.
The DICOM solution "DIGITAL IMAGING & COMMUNICATION IN MEDICINE" is an international standard for the IT management of medical imaging data: nuclear medicine, scanners, MRI and ultrasound scans.